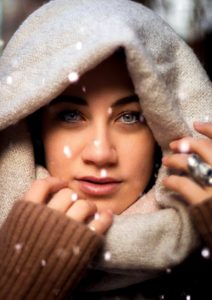 Every winter I have the same issue/problem with my facial skin. Enough is enough! I have to do something about it, so that my skin doesn't go dry. Thankfully I found CosKin and I now know the correct cosmetic cream that I can use to get rid of dead cells and to hydrate my skin correctly.
I want to tell you about my personal experience with CoSkin. I'm turning 36 this year and cosmetic creams have never been a priority for me at all. I know that sounds strang but I don't feel bad about it, I've been so busy being a working mum taking care of others and not having much time for myself (job, kids, cleaning, cooking, washing, etc.)
One morning, in the middle of doing housework, I looked at myself in the mirror and thought: ''OMG! Look at you, the skin on your forehead and on your nose is completely dry!? How could this be? You've been so busy you haven't been looking after yourself girl! Poor you!''
That's when I decided to take the bull by the horns and go straight to the Beauty Shop. Oh no how do I choose the right cream or lotion ? I was completely lost, drowning in the thousands of products. I was quickly disenchanted and I went home very dissatisfied and unhappy. My next option was to go online and lo and behold I found my old friend Jimmy (CosKin CEO!) had developed a skin analysis system that acquires multiple skin images in a few seconds.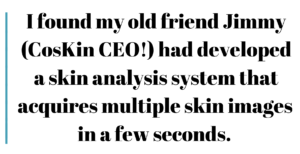 I kindly asked him if it was possible to do the test, and he explained it would take only 3 seconds to uncover what my skin issues were. Once he had analyzed my skin, he suggested a specific skin treatment to purchase with a professional beautician. A few days later, I went back to the shop armed with my new skin information and after speaking with a professional, I bought the specific products for my type of skin.
Now I have my daily facial skin routine all set up, and I use a natural sebum cream, as well as a day/night cream and an organic mask once a month (this one helps hydrate my skin). Today, after only 3 weeks I can see the amazing results!! Thanks to the CosKin testing, my skin looks and feels so much better, I feel good having set up a daily routine for my skin now and I'm proud to have taken the time for myself! YAY